You can watch this ep with English subtitles on this Youtube playlist here.
Today, Andi wants answers. Why is Bella breaking up with him? Is it because she's in love with the guy she slept with? Is Andi not good enough for her any more? What's gone wrong?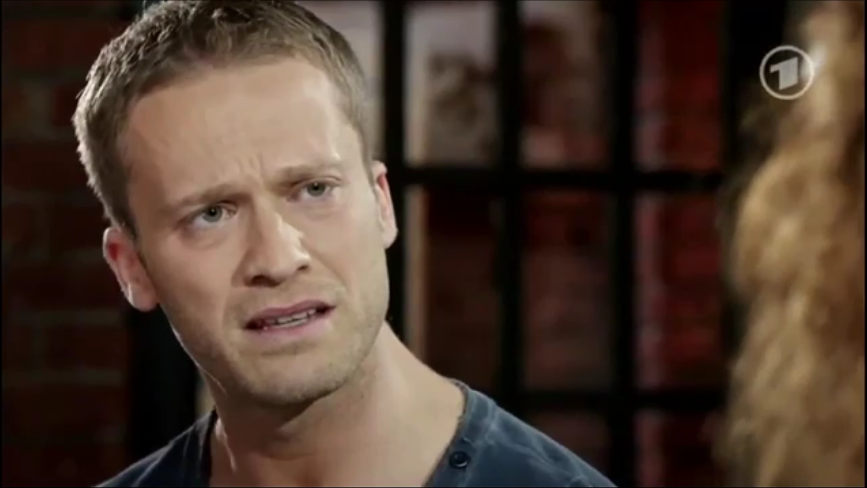 I make fun of Andi a lot, but I adore him really, and at this point he really does deserve answers. Especially given how she treated him when he cheated on her with Alexa, Bella owes him some honesty, the truth about her feelings. It's just common courtesy if you're dumping someone after telling them barely a month ago how much you want to start a family with them.
So Bella, sensitive and considerate as ever, tells him to stop fucking badgering her and just leave her alone because it's over, get over it.
Leaving Andi to go and have a weepy montage in the woods. (With all respect to Dominic Saleh-Zaki (sp?), I've not been totally impressed by his crying acting in these eps.
Shocked he does brilliantly
, but crying not so much.)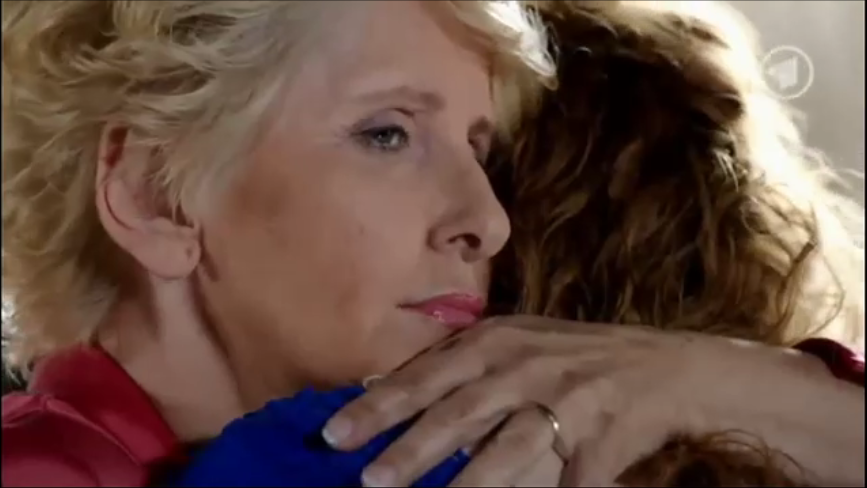 While Bella gets cuddles and sympathy from Charlie. As a feminist, I am all for bucking the usual trend of having the woman demonised as a bitch and a whore in any soap break up, but I do wonder if this is maybe going a bit far in the other direction... But I've never been Bella's number one fan anyway, so maybe I'm not the best judge.
Back at the flat, it's Andi's turn to get a little support.
Except Olli is actually a little more concerned to hear that Bella is in love with Jo. Let's generously assume it's because he's worried about family dinners being awkward as heck, and not because he's still hoping to stake a claim himself.
Come on, Olli, sit a little closer.
Then take him in your arms, kiss him softly on the forehead and say "Shh, I'm with you now."
He's going to need you nearby when you have to cruelly disabuse of the notion that he might be able to win Bella back.
Which Olli doesn't do very successfully, because there's about 20 more minutes of this episode which is just back and forth between Andi and Bella where Andi is like "please, please, please take me back, what can I do to change?" and Bella is like "not happening, sorry", over an over again. I'm not going to recap it properly or with pictures because I have neither the will nor the patience, but it is vaguely of interest if you want to contrast Ansgar's comment to Emilio about how there's nothing worse than a proud idiot (when Emilio refused to accept €50,000 as a gift not a loan), with how Andi has completely surrendered all pride. I think in this instance, Ansgar's theory doesn't really hold up.
Downstairs in No Limits, the show's new power couples have arranged themselves into formation. Andi/Tim and Sascha/Charlie OTPs!
(Focus, Sascha...eyes away from Tim's crotch.)
Andi apologises to Tim for hitting him, and I'm fairly sure Charlie grabs Sascha's thigh (at about 9:36 on my Youtube upload).
But it might not be smooth sailing, because, when not looking at Tim's crotch, Sascha still only has eyes for Olli...
And his penetrating gaze causes Olli's shirt to ride up.
It's alright though, Charlie quickly moves on to new ground... But then who will Andi have? Oh no, does this mean next episode we'll have to watch him still chasing Bella? Why do you have to ruin everything, Charlie? You already have one Helmke at home.
Olli is disappoint. I am disappoint. Frank would be disappoint too, if he wasn't busy boning your best friend.