You can watch this ep with English subtitles on this Youtube playlist here.
Today, it's actually still yesterday. After finishing the make-over and accompanying Bella into work, Olli goes back home to see Jo.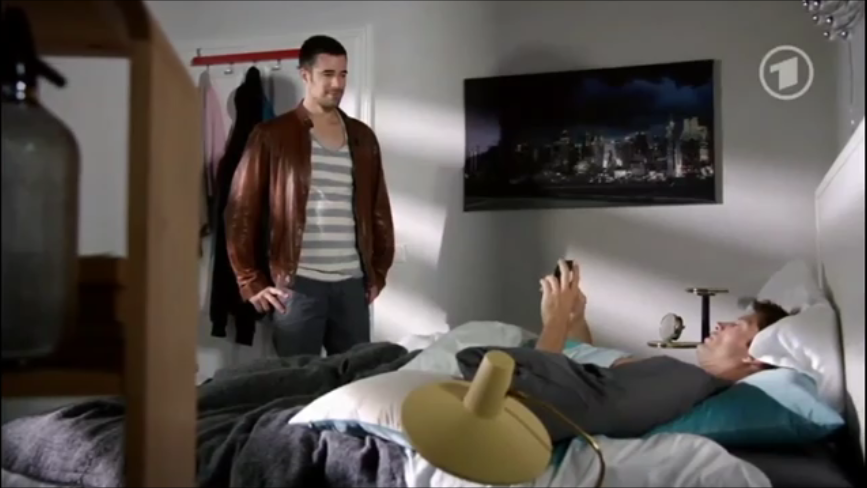 He thought Jo might have got bored and left by now, but Jo has been so busy playing Candy Crush on his phone that he didn't even realise Olli wasn't there.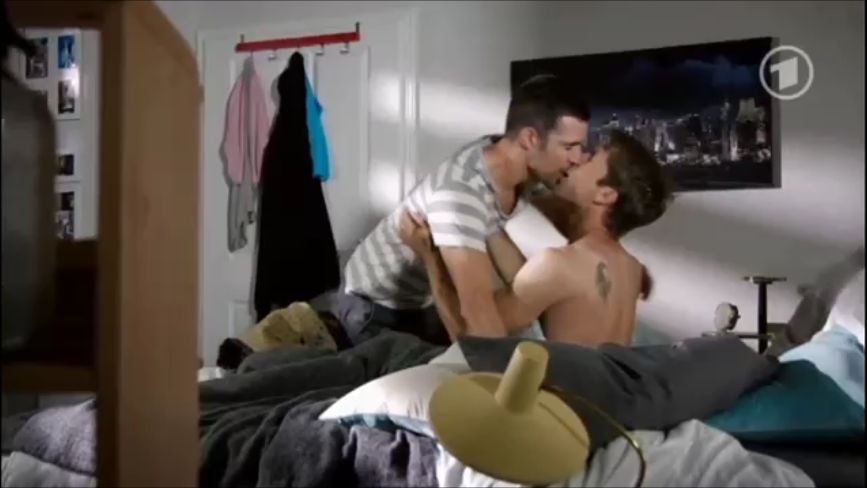 Olli able to distract him though, at least for the twenty minutes while he waits for his lives to refresh.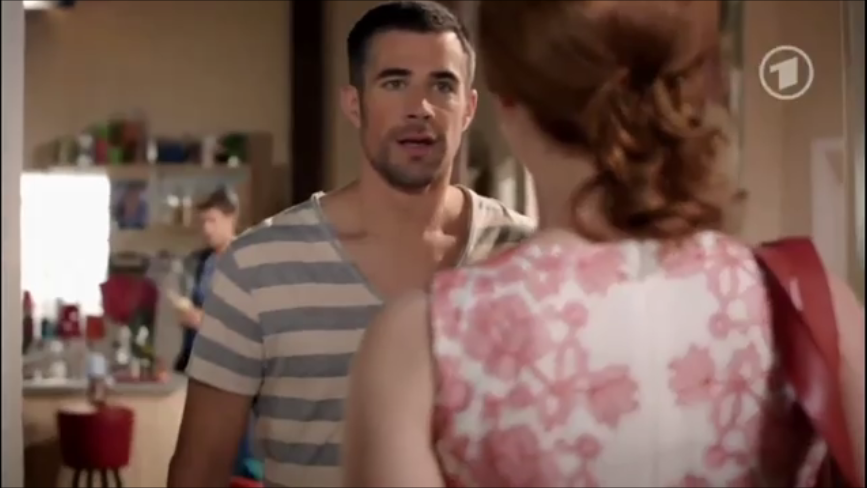 They're just about to enjoy a nice post-coital coffee when Bella appears at the door. She has some tickets to a jazz show, and she thought Olli might like them. Bella can't go herself because she has her new job, and Charlie can't go because she's more into grunge, and Frank can't go because he's busy protecting Elisabeth's person with his penis, and Andi can't go because the only song he likes is Pop Goes The Weasel, and Emilio can't go because he needs to spend 3 hours a day brewing his special potion otherwise the enchantment will wear off and his conscience will grow back, and Jessi, Dana, Ricky, Hagen and Maxi can't go because it's a bit of a trip, and right after Bella had asked all of those people, she thought she could offer them to Olli.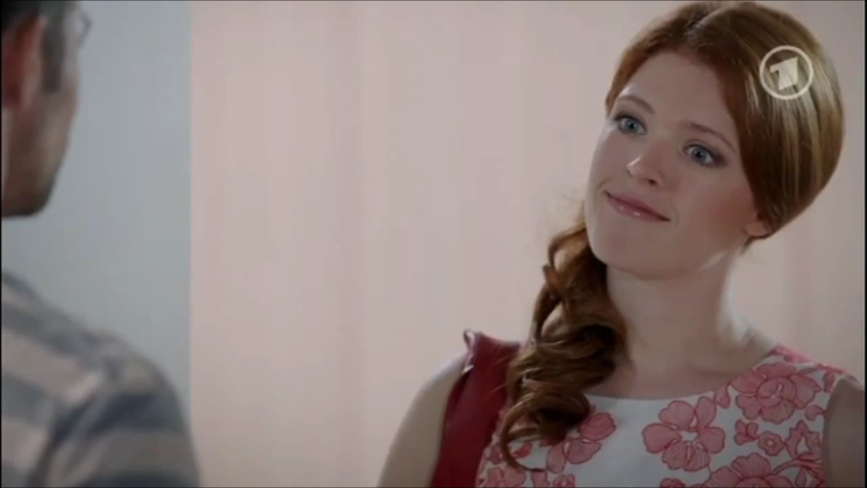 Olli is thrilled, and asks her in for a coffee. She declines. So he asks Jo to come with him to the jazz show.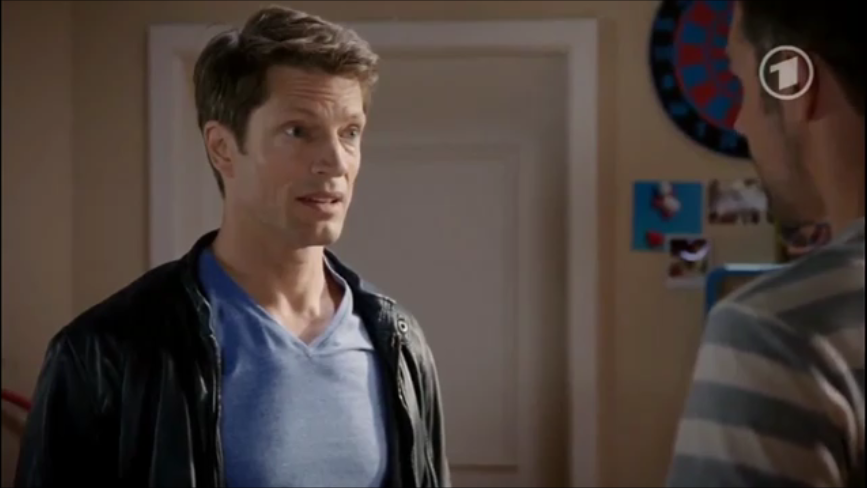 He declines. Olli is sad. Jo leaves.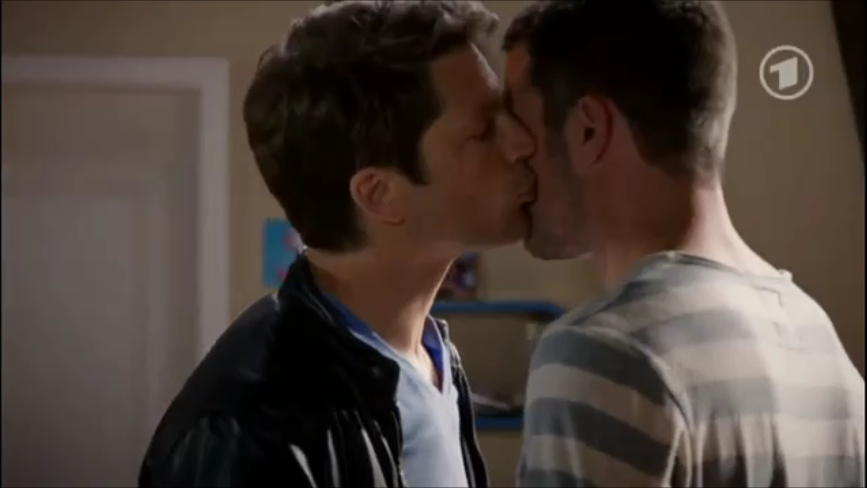 ...You know what I was saying yesterday about Jo's kisses being slightly off target, I think he's getting worse, that's nowhere near his lips- Oh, perhaps that one was intentionally a cheek kiss. I'm not 100% convinced though.
Downstairs Olli asks Sascha if he'll come to the jazz show with him.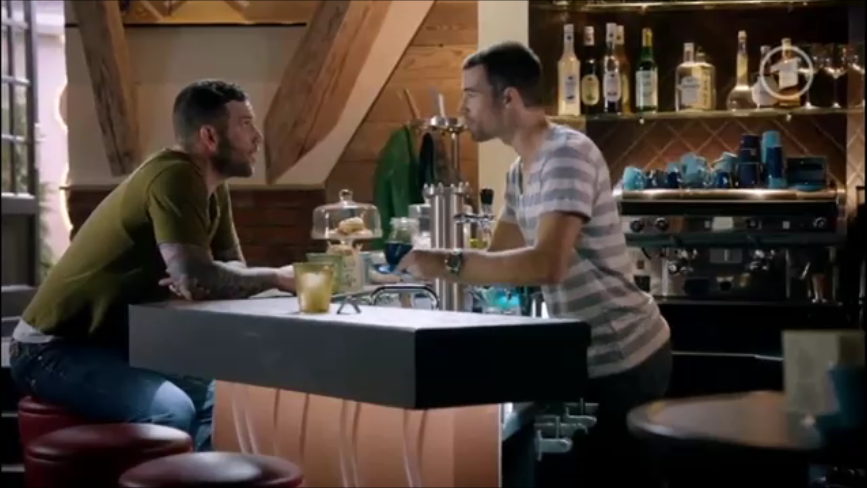 Sascha says no because jazz is only for men who wear corduroy, asks why Jo isn't going, and Olli explains to him that they're only having an "Affäre", not a proper relationship, which means they're not allowed to see each other recreationally unless it's sex or breakfast related - they can't just see each other for fun. Sascha tells him that that's all backwards, during his own "Affäre" with Caro he had to go to six different jazz concerts before she'd even let him get to third base.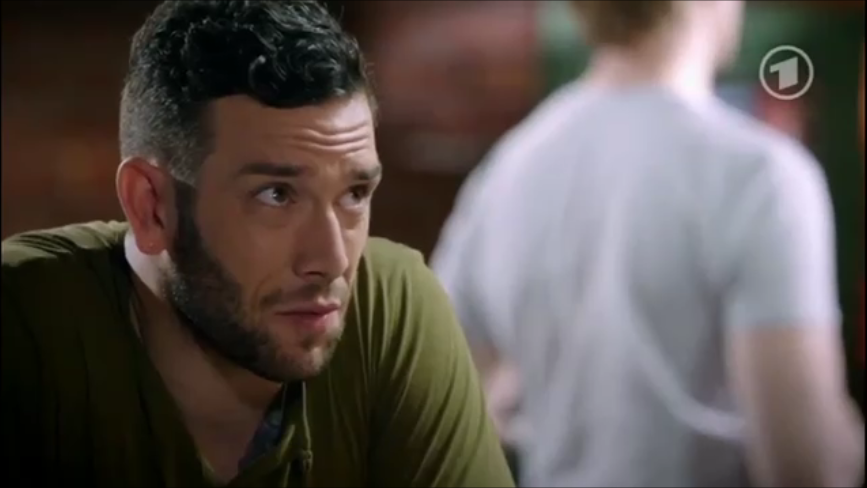 They decide a second attempt at asking Jo out is in order.
At the hospital, Olli is having what I believe is his fifth check-up in two days for the tiny graze above his eye. You can just about see Bella in the background waving her hand around saying "see, I don't look so pathetic and needy now, do I?!".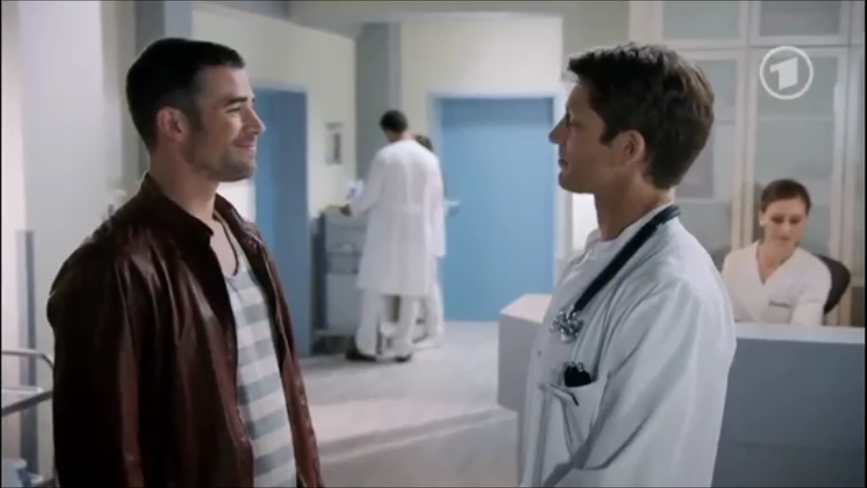 Olli uses this as an opportunity to try and persuade Jo to go to the jazz show after all. At which point I begin to want my Trigger Warnings for second-hand embarrassment again. Jo actually knows a lot about jazz. Olli is just pretending to know a lot about jazz. Cue lots of cringe-inducing "hilarity" for the rest of the ep.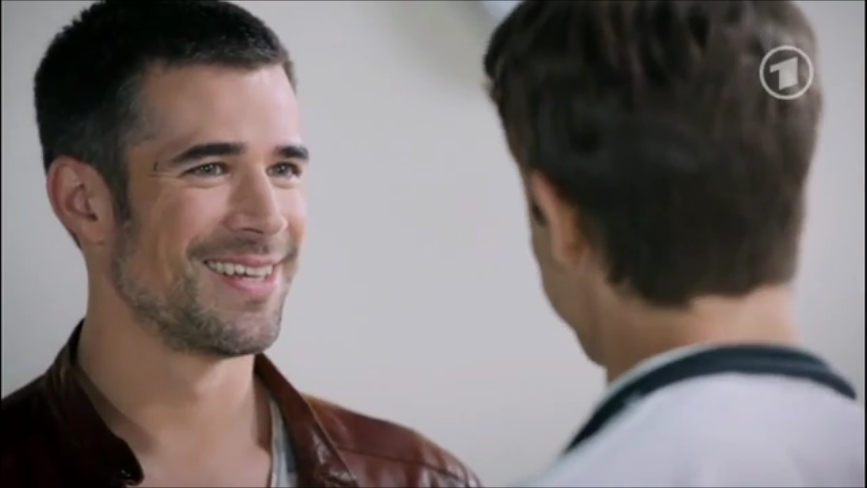 Jo does agree to go to the show though, once he hears the name of the musician (Meadow Books), so Olli is a happy bunny, and not at all suspicious about Jo's sudden change of heart. The moron.
Back at No Limits, Sascha is trying to help Olli learn a little bit about jazz so in preparation for his date. This is necessary, because Olli's entire knowledge of jazz is "jazz is a type of music" and the thing Sascha told him earlier about the corduroy.
Together they studiously study Meadow Books' wikipedia page, and learn the album names and what awards he won and so on. If you're thinking "but if someone mentioned a musician to me that I'd never heard of before and needed to become informed about then the first thing I'd do is go to Youtube and listen to one of their songs" then Olli can't do that because of plot and/or GEMA.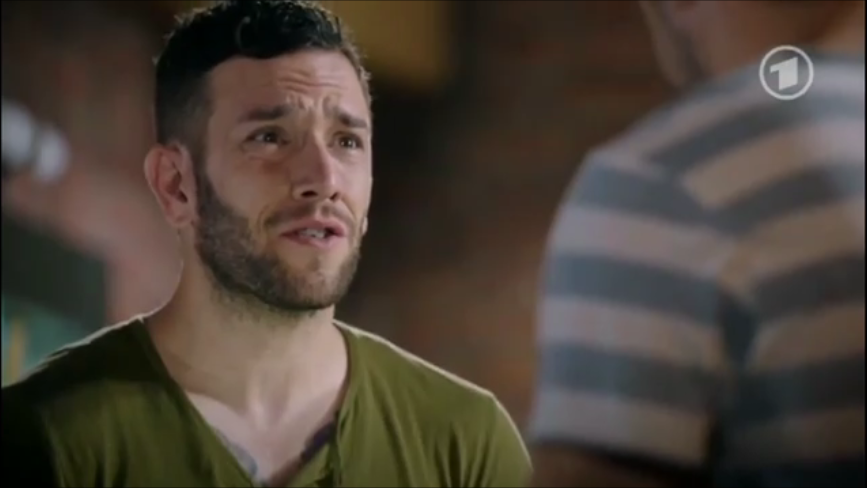 Sascha, acting as the voice of reason, says that maybe Olli shouldn't pretend to be someone he's not just to impress a guy.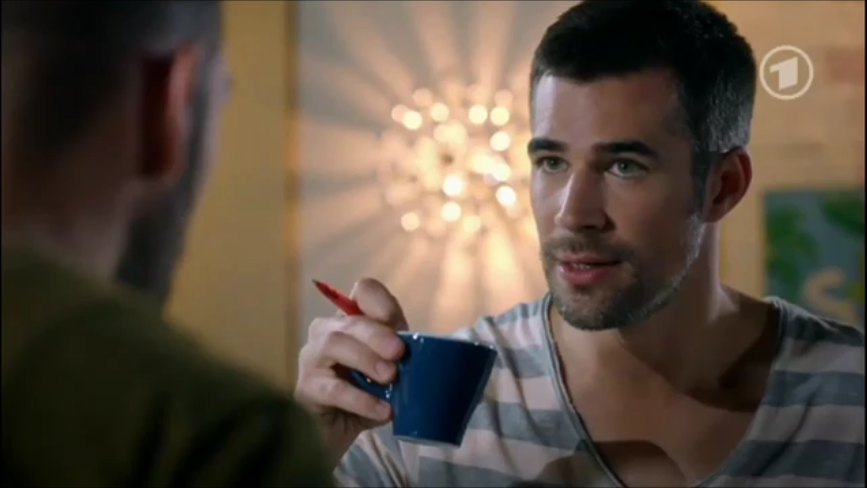 Olli tells him to stop being a jelly bear, Olli's relationship with Jo is completely different to his one with Sascha. Sascha says he just doesn't want to see Olli get hurt.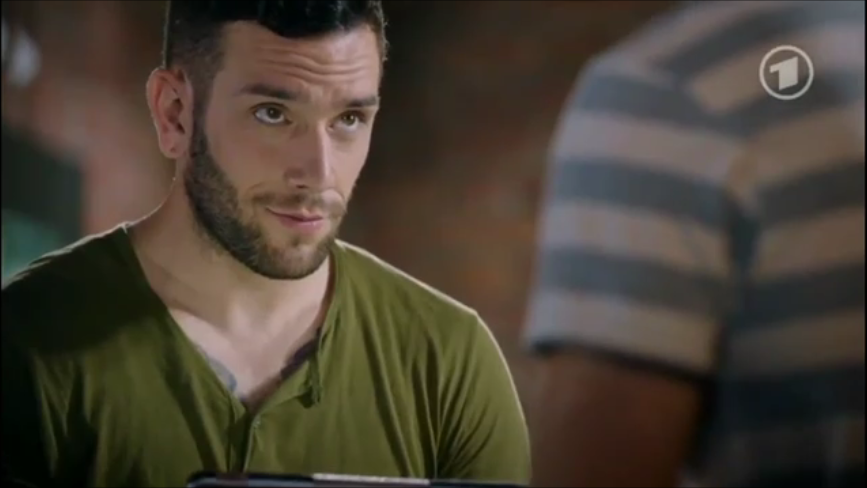 Be still my beating heart.
Later at the jazz club, Meadow Books is a terrible musician, which Jo knows, but Olli doesn't, so Olli acts like he likes the music until he realises Jo is taking the piss and then they start giggling and they get chucked out and then they kiss. The end.
No but seriously, that still looks a bit high... Anyway, Olli thinks Jo's going to run away and leave him now that the date is over, but Jo decides to surprise him by saying they should sped the rest of the day together, even though that just means watching Olli work behind the bar at No Limits. Olli is excited, and they leave with their arms around each other.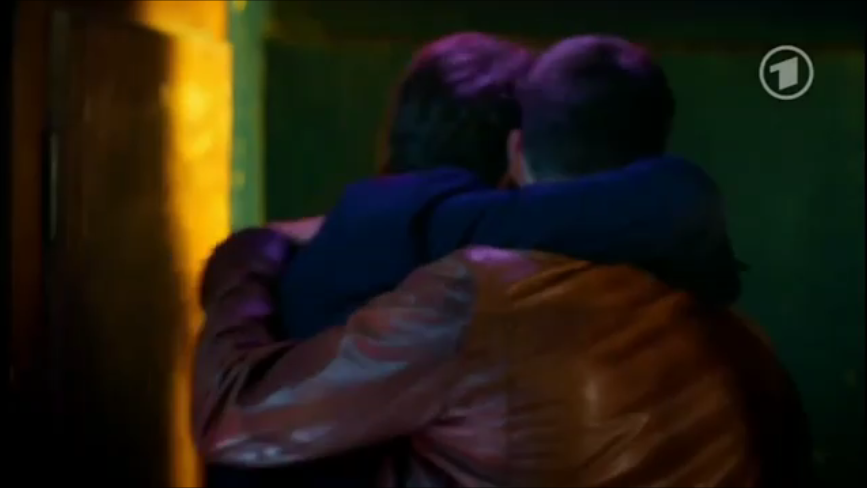 (Forget kissing, they apparently can't even choreograph having their arms around each other without it looking like an awkward mess. One over, one under, boys!)