Watch this episode with English subtitles here.
Today, Olli is home from another date that went wrong. I'd like the show more if we got to see all Olli's fail-dates rather than just his recounts of them later, but whatever. He goes home to be comforted by Captain Mixed-Signals.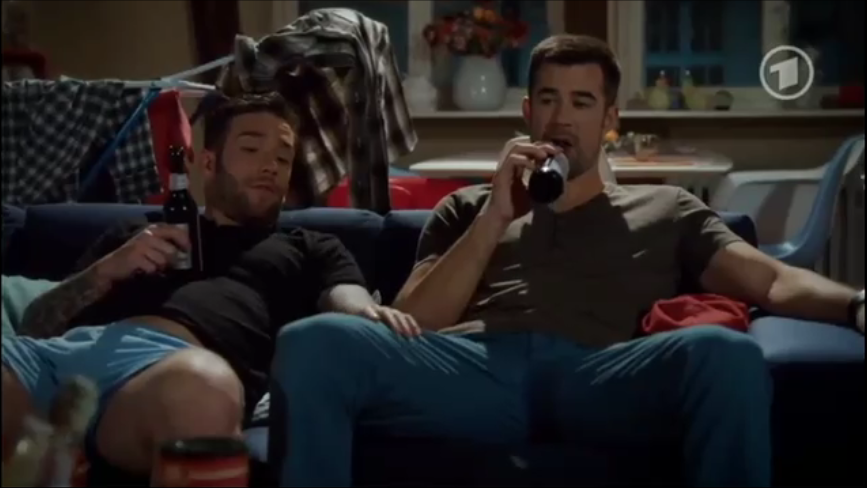 I HAVE NO DESIRE TO EVER SLEEP WITH YOU AGAIN, PLEASE IGNORE THIS TOTALLY FRIENDLY HAND ON YOUR THIGH.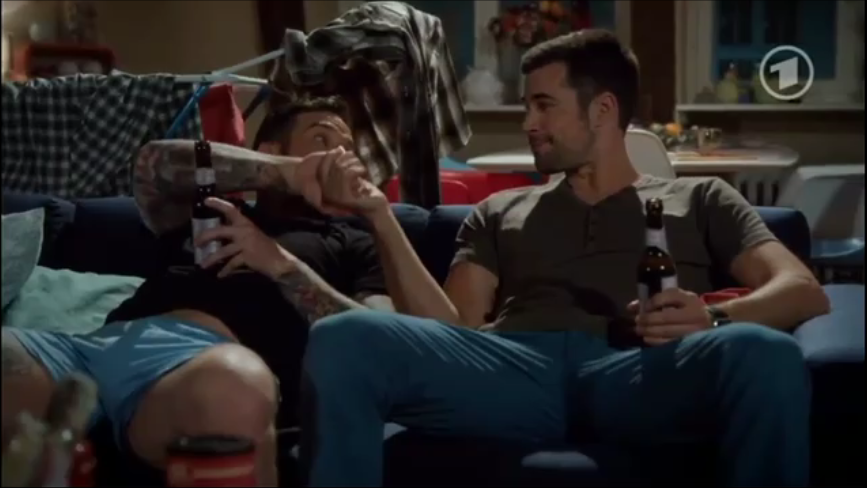 HERE, LET US PROMISE EACH OTHER THAT WE WILL BOTH STAY SINGLE FOR EVER AND NEVER HAVE A SERIOUS RELATIONSHIP WITH ANYONE ELSE. BUT I AM STILL 100% STRAIGHT.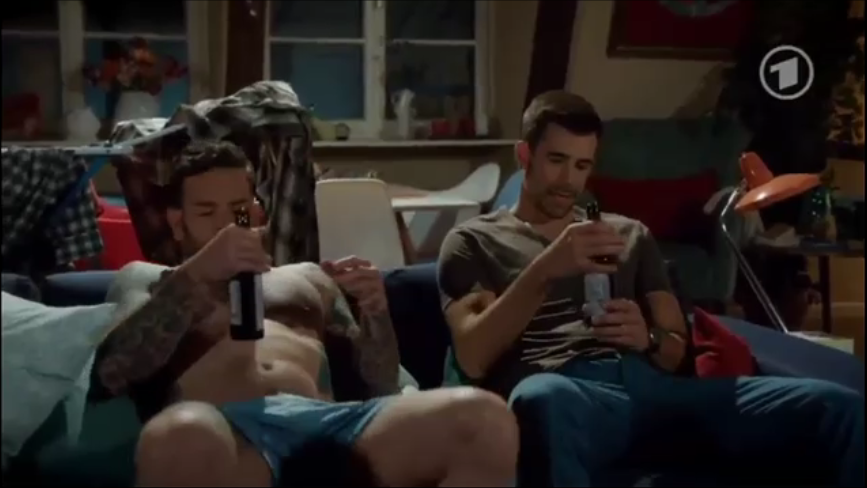 OH NO, MY SHIRT FELL OFF, PLEASE READ NOTHING INTO THAT. NO GAYNESS TO SEE HERE.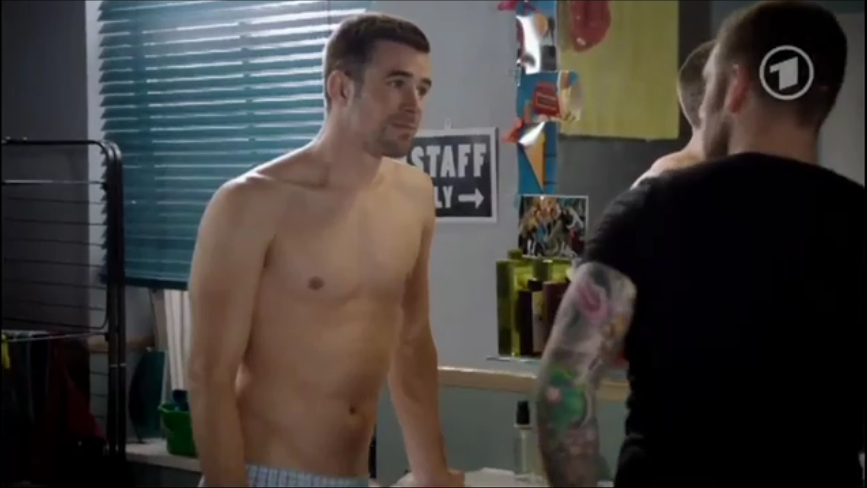 OH, ARE YOU IN THE BATHROOM, OLLI? AND NAKED? THEN I DEFINITELY NEED TO COME IN. FOR...DEODORANT! THAT'S IT, DEODORANT.
WHICH I WILL APPLY OVER MY CLOTHES, EVEN THOUGH IT WILL BLATANTLY STAIN MY NICE BLACK T-SHIRT. BUT, YOU KNOW, IT DRIVES THE GIRLS WILD.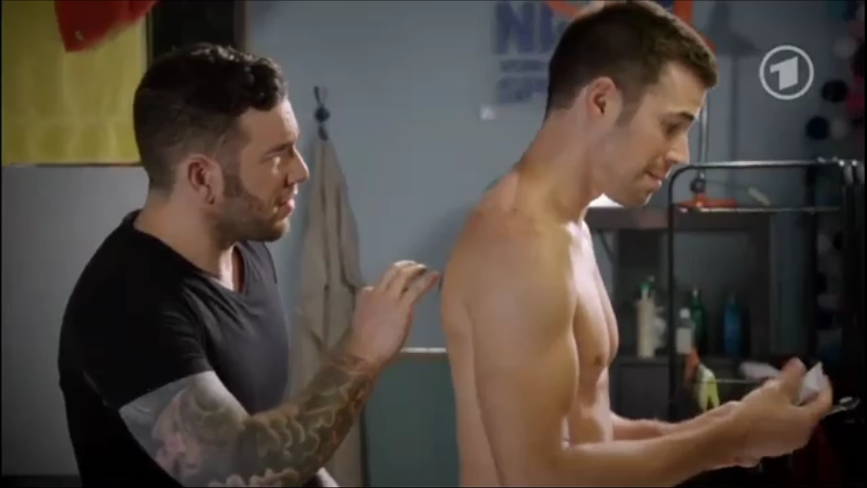 SHUT UP, I CAN TOTALLY KEEP MY HANDS OFF YOU.
(
I will go down with this ship...
[/Dido])
Anyway, the actual reason Sascha was so interested in Olli's back is because he has some sort of terrible skin eruption which is so gross that Sascha has to flee the bathroom, leaving Olli alone to self-diagnose. Being the rational, level-headed guy that he is, he will obviously conclude that he has developed mild eczema, or heat rash, or contact dermatitis, or something else innocuous and treatable...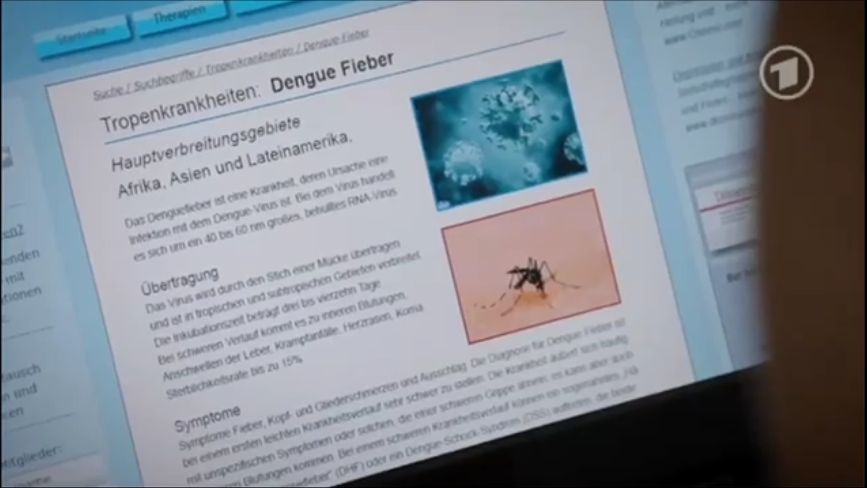 Oh, or Dengue fever. So he takes himself off to the hospital.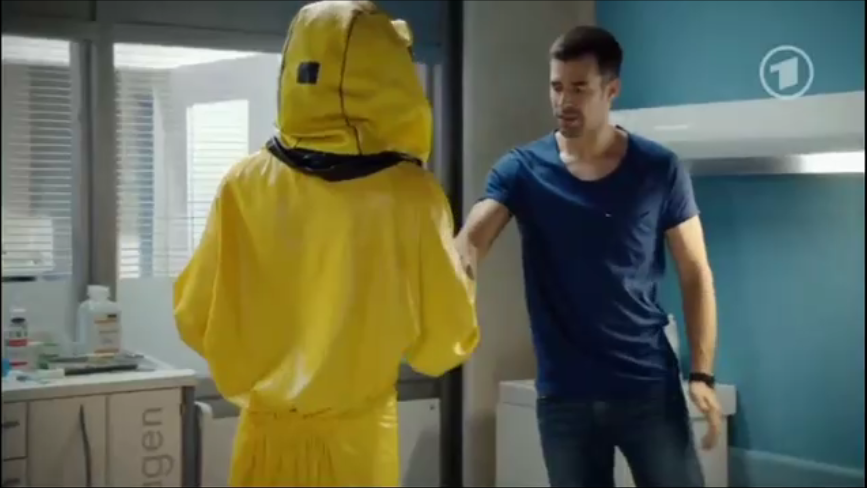 Because of his highly contagious potentially fatal tropical disease, he gets put in a quarantine room and is attended to by
Logar, the Trion god of fire
Dr Helmke in a hazmat suit.
Dr Helmke teases Olli a little about his impending death, and his fear of needles, and general scaredy cat nature. So Olli tells him about how actually he is a very daring, un-anxious chappy who is never normally panicked about anything, except having an itchy back. They chat about their recent travels - Dr Helmke rode his motorbike through Asia, and Olli shares some more info about his Africa trip. In Botswana he went on a water safari, camped in the Kalahari, and then got the bus down into South Africa. He also says he went travelled through 6 countries. So Cameroon, Botswana, South Africa...any bets on the other three? If he went direct, that would have to be a Cameroon>Congo>DRC>Zambia>Botswana>South Africa route. Which is not the safest, so maybe he flew over Central Africa and went to Namibia and Zambia and somewhere else nice and friendly...Mozambique, say. He got back in one piece anyhow.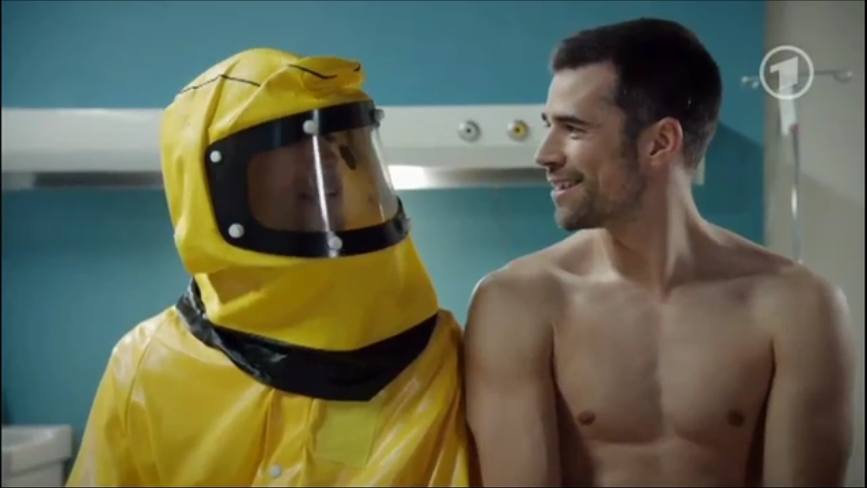 Olli tells Dr Helmke that he's actually the first person who's heard the stories from his trip, because all of his friends are terrible people who only want to talk about themselves and don't give a shit what's going on his life. Dr Helmke shows off how much he's been paying attention and tells Olli he has a hot body.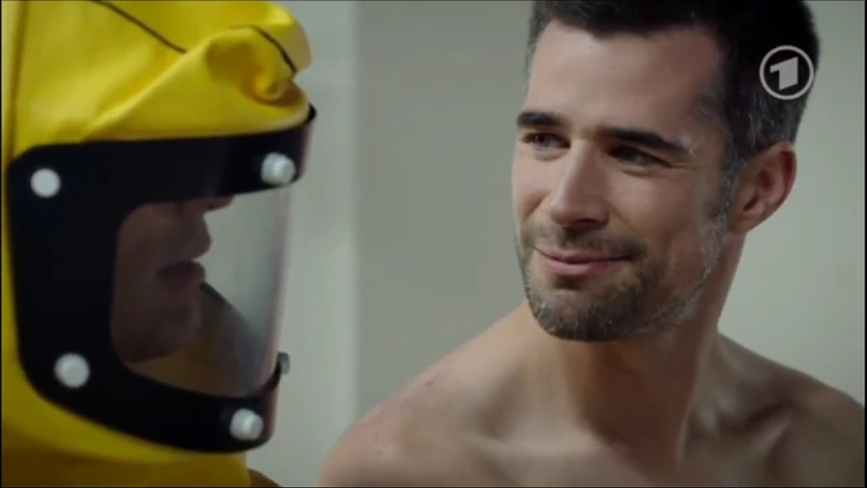 Then the test results come back, and it turns out Olli's fine and probably just had an allergic reaction to Justus. In celebration, Dr Helmke takes off his helmet.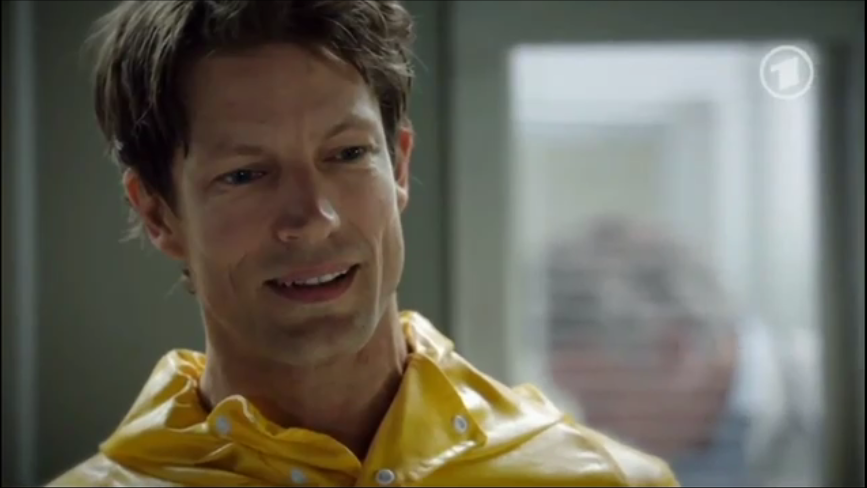 Eh, not bad.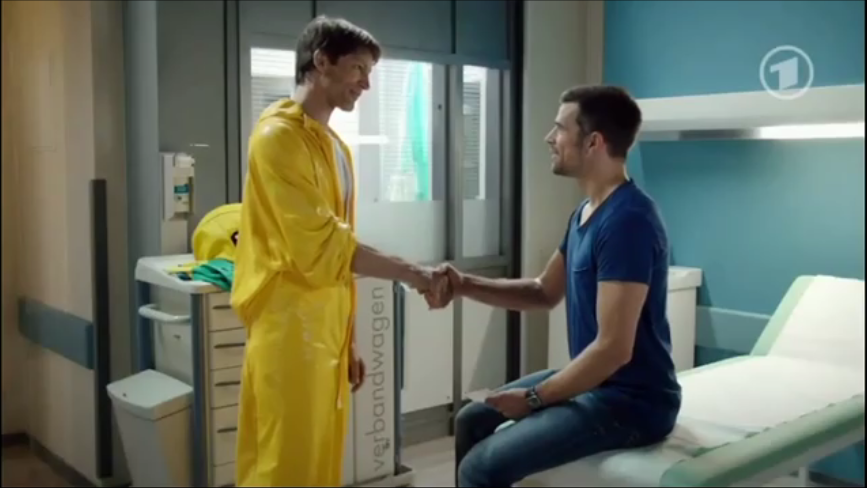 Olli is much more whelmed than I am about Dr Helmke's face, and in under 24 hours has broken his pledge to Sascha not to fall in love with anyone else. (What did you expect, Sascha? You can't play doggy in the manger for ever.) So he does the only thing a German in love can do, and shakes Dr Helmke's hand twice in under a minute and invites him for a drink.
Later, Olli realises that he doesn't actually know Dr Helmke's name (...can't you look on the prescription he gave you? or do German prescriptions not have the doctor's name on?), so he runs back to the hospital to find out.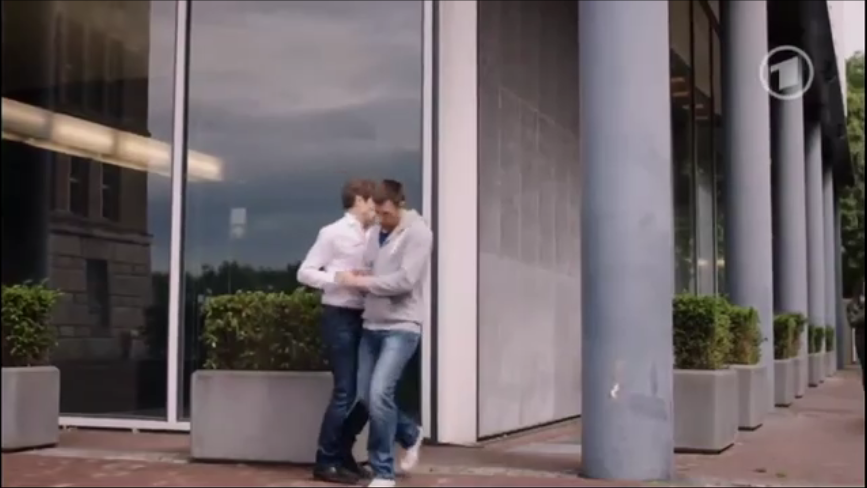 And literally runs into him. He pretends he left his deodorant in the hospital so he came back to fetch it, and then there's teasing, and smiling, and flirting, and adorableness, and aww.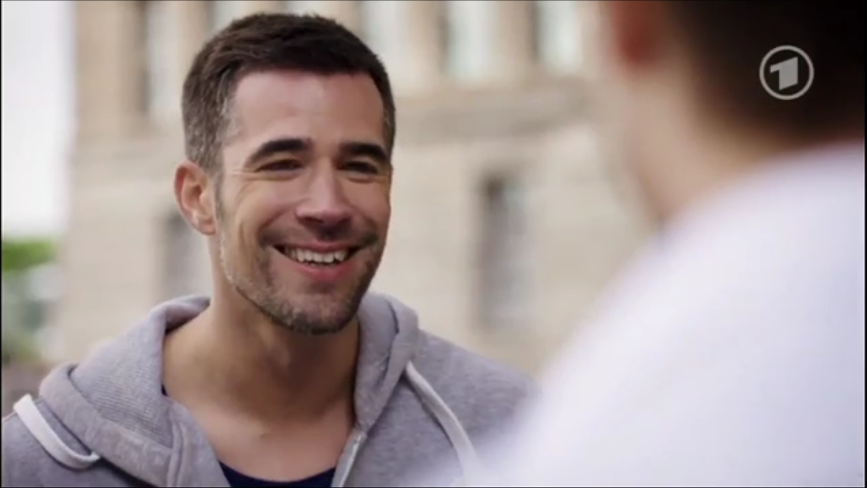 Olli looks so cute when he's in love.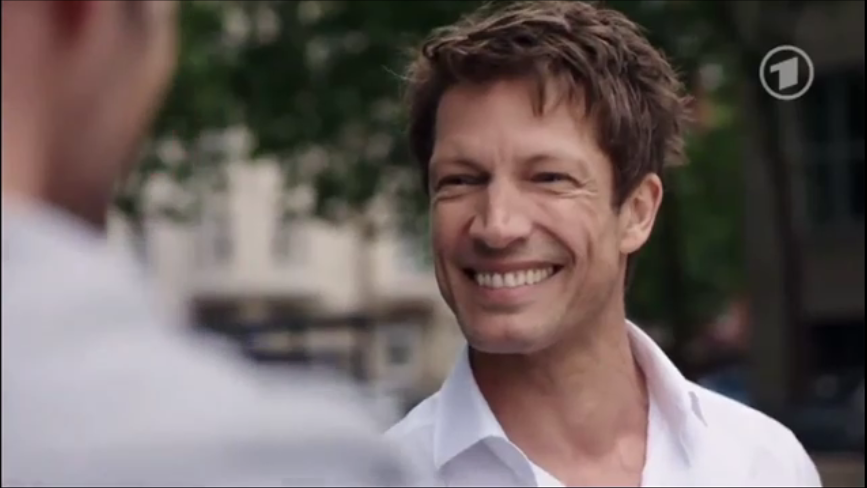 And...sullen might be a better look for Dr Helmke.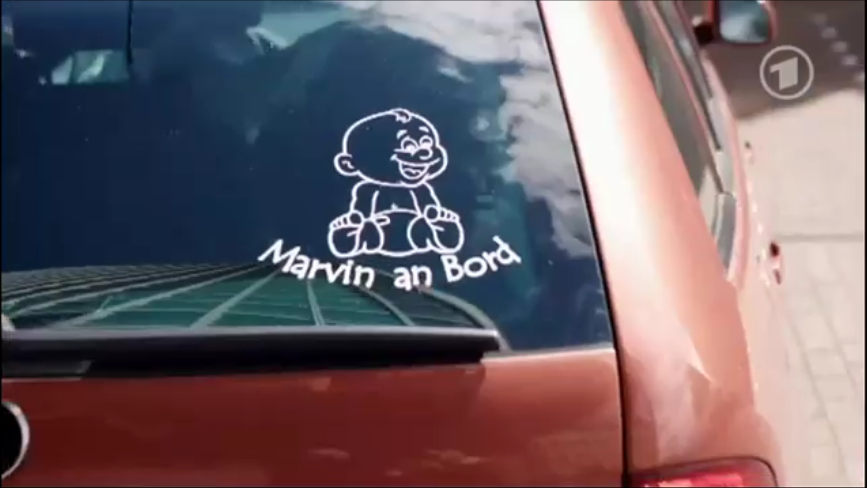 But then when Dr Helmke drives away, Olli notices the Baby on Board sticker on his car, and knows that yet again he's got the hots for a straighty :(